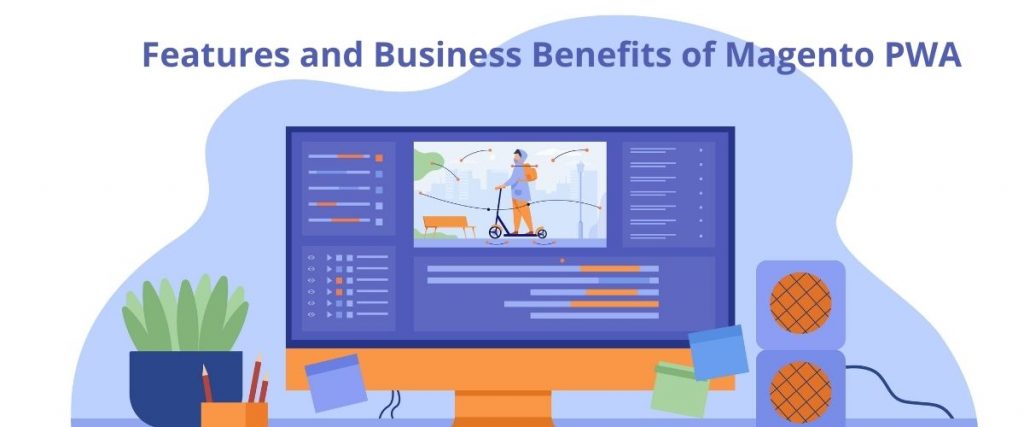 Magento has been a popular choice for e-commerce businesses since its launch. It has been updated constantly to provide the latest functionalities to these stores. Last year, it was announced that Magento 1 is no longer safe, hence, we need to migrate to Magento 2.
Magento 2 has become the latest choice for e-commerce and plenty of them have already started migrating to the new version. With many other features and enhanced functionality, Magento 2 has also brought with it Magento PWA. When the world was moving towards progressive web apps to give their users an improved version of their website or app, Magento 2 PWA came as an add-on for businesses operating in the e-commerce sector.
Progressive web apps are one of the most talked technologies that have gained popularity in the IT world. They are powerful solutions that have influenced the commerce industry a lot. Magento has adopted this technology and has helped the developers with a suite of tools that are used to create online stores performing like applications.
With this technology, ecommerce businesses will be able to benefit from the effective functionality offered by PWA features. PWA application development can progressively load and run on any mobile browser and offer an app like experience.
Why PWA Magento?
Any business needs a website development today. When you have to make one, why not develop one that suits mobile as well as computers. Talking about best you can afford. build e-commerce PWA because average websites cannot create the same impact on smartphones as they do on computer screens. Yes, it is true and as simple as that. Business can try native apps which do engage users but not until user downloads and installs their app. You cannot force users to download an app without having a brand value.
PWA Magento is conceptualized to fill this gap wherein you don't need to rely on different solutions for mobiles and computers. PWA resolves this issue as it serves an engaging web interface for audiences across the board. Whether the user comes from mobile, computer, or any other digital device, Magento PWA provides the same precision and impact over the users.
It must be noted here that Progressive web apps are delivering some truly astounding results for the businesses who adopted it. This is why it is lauded and hyped as one of the revolutionary technologies for the e-commerce industry in the foreseeable future.
Benefits of PWA:
1) Better user experience: As they provide a native app-like experience, it enhances the overall experience of the user to explore your app.
2) Fast Performance: With offline accessibility, the user does not have to wait if their internet connection is slow.
3) Reliable: If a user is interacting with the app and they face an interruption in connection, their requests are saved online. Moreover, they can even fetch new pages.
4) Marketing: You can spread the word about your app by sharing your link. Unlike other apps, it is not limited to be downloaded by app stores.
5) Memory: Unlike native apps, PWAs do not utilize your phone memory to save their data. Like websites, it can be accessed without any memory space requirement.